Shake, Rattle & Roll
So, what happens to a high speed train when – not if – a major earthquake strikes?
California is earthquake country. Most of its faults run parallel to the San Andreas, a right-lateral slip-strike transform fault zone along which the North American and Pacific tectonic plates slide relative to one another. Click through this magic Google link and look at the animation for a sense of how the fault has evolved over the past 20 million years (you may need to allow a pop-up window).
Swarms of small tremors, most imperceptible to all but scientists with sensitive equipment, happen all the time in the American West. But, every once in a while, a major cataclysm occurs. The Hayward quake of 1868 and the Great San Francisco quake of 1906 are well documented in the history books, but the impact on modern infrastructure is more evident in more recent seismic events. Whenever and wherever the ground shakes very violently, buildings may collapse, power lines may be downed, gas mains may break and fires may start. Roads, water mains, sewers, telecommunications lines may be damaged. Old feeways may pancake and old bridges collapse. The economic damage alone is usually staggering.
And sadly, in spite of the consistent application of the best earthquake engineering available at the time of construction, people still die when it happens in California.
Loma Prieta 1989 Part 1 and Part 2

Northridge 1994:

Based on paleoseismic and other evidence, USGS scientists are now virtually certain that there will be another major earthquake at some point in the next 30 years. Unfortunately, they cannot yet pinpoint the time, nor the location of the epicenter. The southern section of the San Andreas fault, which historically has produced a major earthquake every 150 years or so, hasn't done so in 300 and is overdue. The following animation shows the expected surface shake intensities (on the modified Mercalli scale) evolving in real time for the scenario of a magnitude 7.8 quake (on the Richter scale) centered on the Salton Sea.
So what about railroads? After all, the majority of goods arriving from Asia are transported to the nation's interior by freight trains running across the San Andreas fault every day. As examples from around the world show, tracks are bent, buckled or left dangling off a precipice. Massive steel bridge support columns are mangled beyond recognition. Locomotives derail and topple.
Anatolia, Turkey, 1999: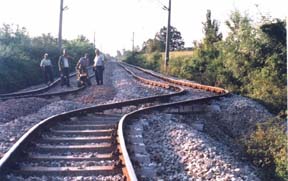 Kobe, Japan, 1995:

Alaska, 1964 (Ceci n'est pas une chaise):

Point Reyes, California, 1906 (narrow gauge railroad):

At first glance then, running trains at high speed if that can happen at any moment would seem extremely irresponsible, even reckless. CHSRA did select a route that allowed both the Garlock and the San Andreas faults to be crossed at grade rather than inside a tunnel. However, based on the above, all that means is that rescue services will be able to reach the scene of a potentially horrific accident that much sooner.
And yet, in 40 years of operation, only a single bullet train has ever actually derailed during an earthquake. This occurred during the 2004 Chuetsu quake in the relatively rural western prefecture of Niigata, Japan – arguably one of the most seismically active regions in the world. The quake registered 6.9 on the Richter and a maximum 7 on the Shindo scale (cp. modified Mercalli scale). There were 40 casualties in all, but none on board the train.
However, make no mistake: the infrastructure in the area did take extensive damage. It is a testament to Japanese civil engineering expertise and earthquake readiness that the Joetsu shinkansen was back in normal operation just two months after the earthquake.
That the train derailed at all was mostly bad luck: it just happened to be very near the epicenter at the time. A few years earlier, JR West had already installed the compact version of UrEDAS, an automatic earthquake response system, for this line. An array of seismographs placed alongside the tracks measures the intensity of the fast-traveling P-waves of an earthquake to estimate the location of the epicenter and predict the severity of the more destructive but slower S-waves. If the P-wave intensity exceeds a threshold, power is immediately cut to the affected sections of the shinkansen line, prompting drivers to execute an emergency brake maneuver.
In the context of developing the "cat-eared" Fastech 360,
JR East developed a formal Earthquake Impact Assessment System to maintain earthquake response safety even at 220mph on the much busier Tokaido shinkansen linking Tokyo and Osaka. This led to the implementation of TERRA-S, a further development of the UrEDAS concept.
Psychologically, the 2004 event forced the Japanese people to realize that even the sophisticated shinkansen infrastructure they are so justifiably proud of cannot guarantee that no-one will ever die on a bullet train. In its aftermath, researchers have explored the dynamic interactions during a derailment. They proposed a concrete curb to minimize the risk of trains with conventional layouts toppling over and jackknifing. It was this catastrophic post-derailment behavior that turned a 1998 accident involving a first-generation ICE train in Eschede, Germany into a disaster that cost 101 lives.
Five years earlier, a previously filled-in and forgotten WW I trench in France had been washed out by heavy rains, but another train had passed by the same location just ten minutes earlier and its driver had noticed nothing untoward.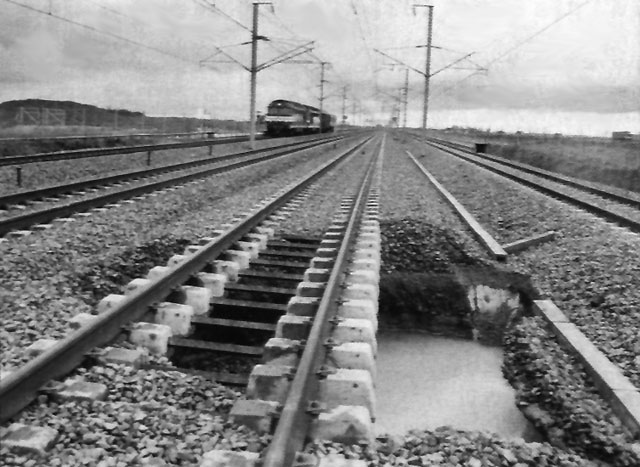 The train that did derail was traveling at 182mph at the time the sinkhole opened underneath it. Almost miraculously, there was only one slight injury! This result was later attributed in large part to the articulated frame design of the Alstom-built TGV. Its Jacobs trucks are located in-between the cars, supporting a frame that limits the horizontal and vertical angles the cars can make with one another, making the whole train much stiffer. For the technically inclined, this suspension cutaway details the implementation on the TGV Atlantique series (h/t to Clem Tillier's TGVweb):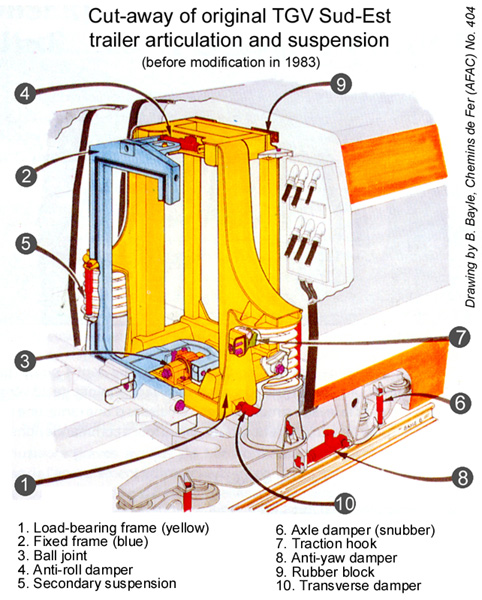 Conclusion: Thanks to selecting proven steel wheels technology, CHSRA can draw on decades of high-speed rail research, implementation and operation to minimize the risk of a fatal accident during an earthquake and, to resume service as soon as possible after one. The Japanese arguably have the most expertise in earthquake resilience engineering of HSR infrastructure, including the integration of earthquake detection in signaling and train control. The French may have a superior concept for minimizing casualties in the event of a high-speed derailment.
Of course, any earthquake detection and warning system deployed for HSR absolutely must also be made available to all other rail operators in California. It will be their systems' and/or engineers' responsibility to act on this information. Freight trains in particular have long braking distances, especially if an engineer fails to manage the pneumatic brake system properly on a hill descent. Wherever tracks used by different operators are in close proximity to one another, there is a risk of one train running into another that has already derailed on an adjacent track. Therefore, all trains need to frequently and automatically report their position and status to all dispatch centers using open protocols and redundant computer-to-computer telecommunications paths. When strong P-waves are detected, every second counts.
At some point, perhaps even during or soon after construction, California's new HSR network will suffer local damage due to a major earthquake. But take heart: life in the Golden State has always been about taking smart risks – like a one-eyed cat peepin' in a seafood store!
(original version, sung by shout blues master Big Joe Turner in 1954)