Thunder Alley
Analysis by CHSRA has shown that in order to compete effectively against short-haul flights between the Bay Area and Southern California, the express line haul time between San Francisco and Los Angeles will have to be well below three hours. Given that any acceptable route would also have to serve Central Valley towns with non-express trains and, the desire to leverage Palmdale as a relief airport for LAX, this has led to a requirement to achieve maximum sustained speeds of around 220mph (350-360km/h). The consequence is that CHSRA preferred route calls for approx. 50 daily express trains to barrel through downtown areas of Fresno, Bakersfield and other towns and, do so at the limit of what trainset manufacturers will currently support in commercial service.
Should CHSRA expect strong resistance from residents and businesses located close to its chosen route in the network core?
The main problem is that anything moving that fast creates a great deal of aerodynamic noise. Indeed, the rated power required to overcome wind resistance at high speeds is proportional to the cube of velocity. Most of that power goes toward moving air out of the way, resulting in severe turbulence and hence, in noise. As a first approximation, it's reasonable to assume that noise levels will also increase with the third power of train velocity. Ergo, a train running at 220mph will radiate roughly 1.65 times as much sound power as one traveling at 186mph. At a distance of 50m (~150ft), a TGV train will register a peak of around 92dB in open terrain. The new AGV may be expected to come in at around 94-95dB at that distance and its top speed, though improvements in train aerodynamics may have mitigated the increase.
For reference, a major road at 10m (~30ft) comes in at 80-90dB, a pneumatic jackhammer at 1m (~3ft) at 100dB. In other words, high speed trains are really quite loud, especially if you consider that many railroad rights of way are no more than 100ft (~30m) wide. However, assessing the effect of this noise on the human body and psyche is quite involved. First, the raw sound pressures must be modulated to reflect the fact that the human ear is more sensitive to intermediate frequencies than it is to very low and very high ones. The most common modulation is the "A" weighting curve, resulting in dB(A) values. However, it was developed for sounds that are quiet overall and may therefore not be particularly accurate.
Second, the impact on an average person exposed to the noise depends on the length of exposure, the rate of change in sound power, the spectral distribution and the rate of change of spectral distribution (e.g. due to a Doppler effect). Initially, concentration is most easily broken by sudden, loud noises emitted by fast-moving sources – our stone-age physiology is prone to mistake them for approaching predators or other dangers. Depending on the person, frequent repeat exposure can lead either to acclimatization or, to annoyance. The former refers to a neurological response that mutes the initially present fight-or-flight response, the latter to a negative emotional response to frequent distractions from the task at hand. Activities that require high levels of concentration may favor an acclimatization response, whereas the same person lying still in a hospital bed may suffer acute annoyance. Age is also a factor: children are usually less able than adults to disregard noise events, which can impact their academic performance.
Third, noise tolerance is much lower at night, when most people are trying to sleep. This will be especially relevant to high speed cargo operations on the California network, if any. The increased sensitivity is often accounted for by artificially increasing the severity of nighttime noise events by 10dB(A), corresponding to roughly a factor 3. In general, CSHRA planning at the program level has followed established guidelines to account for all of this in their metrics for predicting likely noise impacts on sections of proposed alignments. However, none of them were developed for ground vehicles traveling at speeds of up to 220mph. CHSRA and other state and federal agencies will likely have to create some new guidelines in the context of this project.
Specific local noise impacts can only be assessed at the project level, as the type of alignment (at grade vs. aerial vs. trench etc.), the type of ballast (gravel vs. concrete) and the presence of nearby buildings all greatly affect how sound is absorbed and reflected in the environment. Structure-borne infrasound, i.e. vibrations below the hearing threshold of ~30Hz, can lead to secondary noise if it causes furniture and items to rattle, though this usually does not apply to high speed lines because their rails are continuously welded.
A much less well understood aspect of high speed train acoustics is the response of animals to repeated noise events. As with humans, for each species and individual there appears to be a spectrum of responses ranging from acclimatization to annoyance to panic reactions. Annoyance effects could range from changes in product quality to increased aggressiveness to obsessive compulsive behavior to reduced fertility. The effect of high speed train noise on small populations of endangered species, e.g. in the Pacheco Pass section between Gilroy and Chowchilla, would be especially difficult to quantify.
Fortunately, at least the trains themselves are easier to study. One tool used to identify noise sources at various frequencies is acoustic tomography. Microphone arrays and software are combined to help engineers figure out which parts of their designs they need to refine further. For example, the pictures below were produced by TNO in the Netherlands to analyze a TGV trainset then under development passing from right to left at 330km/h (~205mph) at a distance of 80m (~250ft). The vertical axis indicates distance from grade level and, the number above each picture reflects the frequency band shown. Note that the horizontal and vertical axes are not shown to the same scale.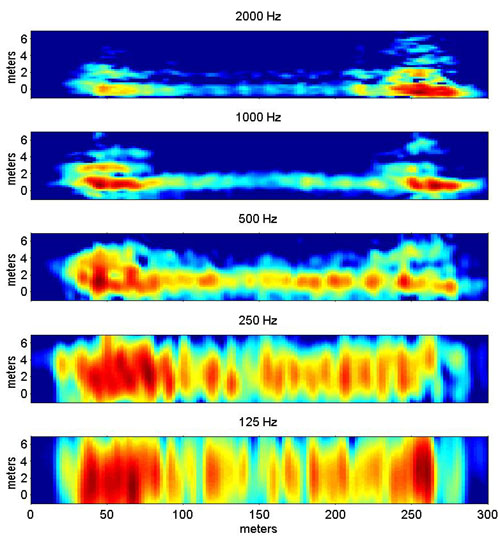 Evidently, some of the noise at around 2000Hz is created by the rolling contact of wheels and rails, but most of it originates from the tractor cars at either end – presumably the power electronics. Note that the loudest emissions are from the underside of the trailing car, most likely a result of aerodynamic effects.
At 1000Hz and 500Hz, the ghostly images of the pantographs are visible. Note that the noise sources along the length of the train are located above the wheels at these frequencies, indicated structure-borne sound radiating off the lower edges of the carriages.
At even lower frequencies, the picture becomes harder to interpret. Clearly, the power cars still contribute the bulk of total noise emissions, but there is also a complex acoustic signature from the sides of the carriages. Note how it correlates with the location of the wheelsets, which in an Alstom design are found in-between the carriages (Jacobs bogies). This may be a reflection of the greater stiffness of the side surfaces at those points or, of gaps between the cars.
The sound track of the following video should give you a better appreciation of the individual sound sources, especially the recordings made at the overpass. The whistling sound may be that of air being squeezed sideways at the wheel-rail interface.
The Japanese have developed a variety of nose cone shapes to reduce not just regular noise but also tunnel boom and rail pitting effects related to HSR aerodynamics. Unfortunately, the sexy 500 series performs less well in terms of noise than the cheaper 700 series with its bulbous duckbill nose.
Just for kicks, here is a video of a Caltrain "baby bullet" train storming past a local one at ~79mph with various sound effects. IMHO, if a passenger train is going to make that much noise, it should be at least twice as fast!
The bottom line is that exterior noise will likely be a significant factor in engineering the California HSR system, especially in the Central Valley. In particular, FRA rules prohibiting mixed traffic currently prevent the use of legacy tracks to access stations in downtown areas while routing express trains through open countryside. Note that FRA might make an exception if HSR trains only share track with other passenger trains and their locomotives are upgraded to appropriate safety standards. Unfortunately, that would mean constructing bypass tracks for freight traffic, something Fresno in particular has long sought but never been able to afford.
Worst case, sound walls could be deployed next to HSR tracks to at least reduce noise by as much as 8-15dB (varies with wall height and alignment design). Construction would cost $1-1.5 million per mile, depending on visual appeal. In the context of a $40+ billion project, this may be a small amount compared to the cost and impact of creating brand-new rights of way through prime farmland. After all, HSR ought to improve the quality of life in Central Valley towns beyond merely eliminating horns, bells and danger via grade separation.
On the other hand, it's useful to keep in mind that freight rail operators aren't exactly walking on eggshells right now, even at night. Witness this recent example from east Modesto: